2009 NEWS
---
December 29, 2009
SAUDADE

• tube'|195 - Long Desert Cowboy - Midnight Lullabies


«Daniel Catarino wrote: 'This album is about departure'. And when you get to the end of the ten+ minutes of 'Heartattack and Wine' you know exactly what he meant. But this could also be an album about Saudade, that famous portuguese word that has no translation and is always connected to Fado. Yeah, could be. Because saudade - something about missing and longing for someone, someplace or something - is also about departure, because when you feel saudades, that's because someone left or you left someone or someplace behind. The first track has that feeling written allover.

So 'Midnight Lullabies' is about departure. Leaving. Going away. It's sad and beautiful and melancholic all at the same time. If you've listened to all the previous releases by Long Desert Cowboy here at test tube, then you know what it's all about. Essential guitar drones.» - Pedro Leitão

'|
---
December 25, 2009
THINGS THAT MAKE YOU MOVE

• tube'|194 - Cluster One - The Things That Move EP


«This is a very short but also very nice EP from one William Mathijsen a.k.a. Cluster One, a dutch musician working between Ambient IDM, Dubstep and other urban musical languages. William started to compose music at the age of 12 and it took him 5 years to start making electronic music at a 'serious level'. IDM, Ambient, Experimental, Minimal and Acid were the styles that most influenced his musical journey.

'The Things That Move EP' is an introspective downbeat/brokenbeat experience in two tracks. Short but good!» - Pedro Leitão

'|
---
December 18, 2009
WINTER AMBIENT

• tube'|193 - Olah Istvan - Export 5


«Olah Istvan is a Hungarian musician currently living in Serbia, and he sent us this very nice EP 'Export 5' which is simply perfect for this winter times. Istvan composes since 2003 and learned from classical music teachers, until he started teaching himself in the ways of avantgarde and electro-acoustic music. He's currently starting to use new sound sources and also acoustic instruments.

'Export 5' title track is a downbeat slash ambient track, with some floating drones, whale-like sounds in the background and a mysterious, almost creepy bass line; while 'Elalvas Elott' is a true and pure ambient piece, spatious as we like them, dreamy and sleepy and synced to our heartbeat. Perfect to keep the cold outside and let the warmth fill our heart. Headphones, please.»
- Pedro Leitão

'|
---
December 07, 2009
VAPOR FOREVER

• tube'|192 - Mister Vapor - Almost Forever


«Mister Vapor is another brainchild musical project by Saint Louis, USA citizen Thomas Park, well known in the netaudio scene by his Mystified alias. Mister Vapor, however, goes deeper in the Ambient-slash-IDM pursuits by Mystified, offering richer and more detailed - and mostly dark - soundscapes.
Drones also make an appearance in 'Almost Forever', of which 'Hamscape' is a track to remember. Closely followed by 'Disease' in my favorites list. When not applying beautiful and hypnotic drones, Thomas is doing other damn good ambient tracks, like 'Chordscape' with its downbeat IDM style; or 'Diesel', which surprisingly sounds like a stripped-to-the-bone ambient hip-hop tune. Thomas does it all and in the end manages to look good in the picture.
This is a fine ambient album and will look great next to your Pete Namlook collection.» - Pedro Leitão

'|
---
November 30, 2009
EXPLORING

• tube'|191 - Mikroben Krieg - Concret Exploratoire


«'Exploratório' was the name of a radio show from local radio inside deep Portugal. That program played frequently ambient electronics, leftfield electronica as well as a wide range of experimental stuff. It seems that this piece was one of the last ones that went live before the radio was bought by a big media corporation and then closed down.
'Concret Exploratoire', by Mikroben Krieg (real name Nelson Brites, a portuguese musician), was broadcasted February 03, 2008 and is an hour long experimental ambient piece, where the musician explores a plethora of moods and sounds from beginning to end. Real exploratory stuff.» - Pedro Leitão

'|
---
November 16, 2009
KILLING TIME

• tube'|190 - The Cherry Blues Project - Dead Hours


«The Cherry Blues Project is a well known two-people-project from Argentina. They have released a handful of works on the excellent Resting Bell netlabel, touching the experimental genre and folk music languages, as well as heavily relying on field recordings to build their works.
'Dead Hours' is their brand new album, a refreshing collection of compositions going well over a hour and covering pretty much all the territories that are familiar to the duo's sound geography. Some pieces are more on the field recordings side, while some others are clearly experimental works, while others yet have distinct folk arrangements and acoustic treatment. There are also some alternative mixes and remixes thrown into the bag, showing that Cherry and Blues are very confortable doing what they do best: designing specific audio environments.

The tone set throughout 'Dead Hours' is obviously dark, sometimes even dark ambient-like, which as far as I know isn't what they are used to do. However they're very convincing doing it, and 'Dead Hours' is a beautifully patchworked album that you shouldn't miss out.» - Pedro Leitão

'|
---
November 11, 2009
IMPULSIVE HABITAT IS GO!
After several months of hard work we are proud and enthusiast to officially unwrap Impulsive Habitat - a division of test tube netlabel - a publishing project label conceived with the purpose of publishing field recording-based sound works. We also encourage multidisciplinary projects that link sound projects with visuals and video work.

Impulsive label is a project originated by David Vélez and Juan José Calarco both sound artists who joined forces with test tube netlabel manager Pedro Leitâo to finally come up with Impulsive Habitat.

For our first release we have the fortune to publish 'Vending machine', the first official release of Joaquín Gutiérrez Hadid, a promising young artist from Argentina whose sound and visual work is noteworthy. 'Vending machine' is a very powerful piece of work that very likely will mark the beginning of an extensive series of releases by Joaquín around the world.

For our second release (available pretty soon) we will have the honor to publish 'The alarming blend of three arches' by Dallas Simpson, an emblematic figure on the world of sound art and field recordings who has been working with binaural sounds for more than a decade.

Make yourself part of our project in any way you want.

TAKE ME THERE!

'|
---
November 04, 2009
HEX-CHOREOGRAPHY

• tube'|189 - A Million Billion - Cavity Care


«A Million Billion is Ryan Smith based out of Queens, NYC. 'Cavity Care' is a collection of compositions that Ryan wrote in collaboration with several choreographers over the last 6 years.
These works are distinctively experimental in nature (especially the first four pieces), but also extremely dramatic and cinematographic in tone, and as a result most of the time they transport us to movie-like settings and places.
To me, the real keeper is 'Kettering and Corby'. That one really hits the spot here, with a blend of domesticated sinewaves and sci-fi guitar playing-like (hello Cliff Martinez!) nostalgia momentum. Ryan hit the jackpot right here.» - Pedro Leitão

'|
---
October 23, 2009
DREAMING IN A CONCENTRATION CAMP

• tube'|mm002 - Bogdan Dullsky - Freedom Reflex | Second


«Famous russian experimentalist Bogdan Dullsky - responsible for the Quest Room Project - returns to test tube with a mixed-media release, to much of my own pleasure as I'm a big fan of his work. For this 'Freedom Reflex | Second' he invited some friends to collaborate, namely Barandash (the visual artist who created the amazing images that accompany this work); Nikita Golyshev (founder and curator of netlabel Musica Excentrica and musician) on samplers and synthesizers; Olliver Wichman (founder and curator of netlabel Petcord and musician) on piano, and also Ray Kondrashov on acoustic and midi percussions.
On this follow-up of a previous work, Bogdan and friends create a fantastic work of various levels in complexity, rendering the listener numb and dazzled. 'Freedom Reflex | Second' is, simply put, an audio-visual materialization of what life could have been in a concentration camp (one like KZ Mauthausen). Life on the edge, full of horrors, misfortune, sadness and agony, but also a life. What is life when you know it will eventually end, sooner than you think? What if you had to enjoy in the best possible way even knowing you would be eventually tortured and executed? What would fill your mind? What kind of pleasure would you try to take from those moments? What would you dream? Would you dream about Death? Despair? Freedom?

There are many answers to these questions. One possible answer is in 'Freedom Reflex | Second'. Listen to it, and watch the images closely» - Pedro Leitão

«One year ago I had a terrible dream. Both simultaneously grandiose and beautiful. The whole year I have spent attempting to reproduce landscapes of the spiritual world behind the looking glass, in a sound...

Perhaps. Which that was possible. You check up...

It would be desirable that we have stayed near to prisoners of concentration camp Mauthausen and other camps of death. In what time and in what place they would not be... Can not listen to this album... Simply pray for, that some things. Never repeated... Though... What am I to speak for it? It will repeat again and again... I have impudence pretentiously to trust in a good victory :)

Take care...» - Bogdan Dullsky

'|
---
October 18, 2009
FIVE YEARS DEAD AND LOST

• tube'|188 - Rico Püstel - Islescape


«Rico Püstel (of tube167 fame) returns with a full album this time. 'Islescape' was written in 2003 when Rico was only sixteen years old, and he thought that the recordings had been thrown away in some garbage dump or whatever ever since, but, back in December 2008 Rico found a copy of the original recordings and instead of tossing them out (again) for being such academic or primitive compositions, he decided to remaster them in light of what he had accomplished as both composer and producer since then. The result is this strangely nostalgic album of what seems to be deep and melodic nineties-flavored techno.

Here's some insight from Rico about 'Islescape':

"My technical standards in 2003 were quite different, so I had to work on them [the original tracks - Ed.] without having any tracks or parts from the arrangements - only the finished pieces. The process of mastering was based on some kind of "low-fi" sound quality, which made it a tough job. Furthermore, I didn't wanted to destroy the original atmosphere, so I had to accept restrictions. To sum up, I can say that "Islescape" is a personal monument where past time stands still while constantly moving within its conditional boundaries. Through this whole process of rediscovering and re-living this music I renamed the concept into "Islescape" attributable to my distant self-observation 5 years later. The original song-names were kept."

Hope you like this time-travel experience into Rico's past.» - Pedro Leitão

'|
---
October 08, 2009
MINIMAL PLACES

• tube'|187 - Minimal States - Like A Photograph


«Thomas Carter has yet another musical project called Minimal States, where he explores ambient soundscapes based on collected samples and field recordings.
'Like A Photograph' is the first set of a trilogy that Thomas intend to release on test tube.

This first work is heavily based on samples taken from the well known Fm3 Buddha Machine and CC field recordings taken from the Quiet American website. With 15 minutes spent with each piece - 'Circadian Rhythms' and 'Stereopsis' - Minimal States embraces the full spectrum of landscape generative ambient in its true form.

The artwork is yet another amazing work from Thomas' friend, Matthew Hawtin. Stay tuned for the remaining two parts of the trilogy.» - Pedro Leitão

'|
---
September 30, 2009
SLEEPY LANDSCAPES

• tube'|186 - Slept. - Slept. EP


«Polish artist Slept. sent us this beautiful self-titled EP of mellow ambient tunes. We couldn't resist its fragile and melancholic beauty and had to put it out no mather what.
'Slept. EP' was inspired by the cover photo - taken by a friend of the artist - and contains the first tracks made as Slept.. No samples were used. It's all original sounds.

There's not much more to be said, really. All tracks are great and it's an awesome little release. I hope you enjoy this beautiful work as much as I did.» - Pedro Leitão

'|
---
September 19, 2009
IDM 101

• tube'|185 - The Sales Department - A Practical Guide


«Canadian MD Matheson returns with his The Sales Department outfit to deliver another excellent IDM release. 'A Practical Guide', like its predecessor [Sub]ways, invests in deep, echoing beats, more mellow pads and an overall sense of old-school electronica.
The wait didn't took too long after all, and this new EP arrives to complement the previous one, as the artist promises it will all make sense in the end. And in the end what you will get is a full featured album, even if splitted in several parts.

Melody plays an important part in The Sales Department's music. Personally, this is what true IDM should really be, sound like and make you feel: a romantic, nostalgic someone, adrift in a distant de-humanized future. Doesn't make sense? Pick up a good set of headphones, put them on and try 'Cloaks' for yourself.» - Pedro Leitão

'|
---
September 10, 2009
RUINS AND HARDCORE

• tube'|184 - Irish - Frustrations


«Remember Irie Yoshihisa from tube008 and tube038? It has been a while since we've heard from him. Well, here he is, alive and kicking! Irish has got a new direction to follow, dwelving into some sort of breakcore territory. There's still the deep melodic tone (like in 'Throw away your television') but now the beats are stronger and sharper than ever. 'Frustration comes again' and 'Sybarite' even bring some dubstep-like bass and flat hi-hats that sound like a million euros (or yens)!

All the production is sharp and well balanced throughout, proving us that Irish has become a convincingly good musician/producer.
Just don't let yourself be intimidated with the bellicist harshness 'Weapons of Mass Self-Destruction' and go in for the whole EP. I guarantee that you won't be disappointed.» - Pedro Leitão

'|
---
August 30, 2009
CROSSING OVER

• tube'|183 - Diatribes + Curado + Viegas - Travessia dos Respigadores


«A Respigador - possible english translation: Harvester - is usually the person who drives or operates the machine with the same name. A harvesting machine used to harvest wheat and other cereals from the fields. So, the title of this new collaboration work between swiss musicians Laurent Peter (a.k.a. d'incise) and Cyril Bondi - both known as Diatribes - and Paulo Curado and João Pedro Viegas (two local jazz musicians and improvisators) is about the travessia (crossover) of some respigadores. Crossing over what? And who are these respigadores and where are they going to (and coming from)?
Perhaps they are Laurent and Cyril, because respigadores are also the people that scavenge stuff that others don't want anymore, turning them into usable objects, like perhaps sound-producing objects, musical objects. Diatribes use them frequently in their albums and live performances, granting the music they make something that goes beyond human performance and instrument manipulation, musically speaking.

In its core, 'Travessia dos Respigadores' is an amazing work of the Freejazz/Experimentation kind. Of totally improvisational nature, the pieces that the four musicians cooked here, simmer together in an enormous range of textures and smells, like a good satisfying meal does. Diatribes operate laptop, found objects (d'incise) and drums (Cyril), with complete passion and mastery. The self-contained tension that Cyril operates into his set of drums is palpable, we can almost taste the sweat coming out of his forehead when he bashes violently the metal and leather of his weapon of choice.
Paulo Curado (saxophone) and João Pedro Viegas (bass clarinet) complete the whole setup beautifully. They are both well experimented musicians and can tap into the tension which this kind of performances operates, bringing all the chaos together, augmenting or diminishing it as they see fit.

At the best moments, 'Travessia dos Respigadores' shows off all four musicians fusing together into a single sound-delivering force. A massive force to be reckoned with. Like a giant, well balanced punch in the teeth, that will make you see the stars, the bells and the little birds flying around your head.» - Pedro Leitão

'|
---
August 26, 2009
DIATRIBES + FRIENDS = FUCKED UP FREEJAZZ, LIVE!

Yup, Diatribes are back. Laurent Peter (best known for his d'incise solo outfit) and Cyril Bondi (drummer extraordinaire) will join forces with a couple of the best local improv. and freejazz musicians for a one-time-only concert.

The vernissage will happen right about tomorrow night, at Fábrica Braço de Prata, an old abandoned weapons factory transformed into a thriving cultural center where poetry, music, lectures and drinking come together. It is located in the industrial eastern part of Lisbon, halfway between Sta. Apolónia train station and Parque das Nações (ex-Expo '98 site). Map/Street View here. (it's the building with the trees in the courtyard). Has a free car park too.

Diatribes will be presenting their new album, a collaboration between the duo and jazz musicians Paulo Curado and João Pedro Viegas (Sax and Clarinet respectively). Album is titled 'Travessia dos Respigadores' and will be available as a handmade high-quality CDr edition at the concerts, or as a free download here at test tube (coming online this next weekend).

Other gigs that are part of this tour, are:

• 01.09.2009 d'incise & abdul moimeme, Bar O'Século, Lisboa
• 02.09.2009 d'incise & abdul moimeme & Miguel Mira & Pedro Roxo, Fábrica Braço de Prata, Lisboa
• 04.09.2009 d'incise & Hernâni Faustino, Art Hobler Galerie, Lisbon

(admission fees may apply)

Don't miss on any of these shows!!


'|
---
August 23, 2009
EAR CANDY-NESS

• tube'|182 - Stig Inge Oy - She Was God Again


«Stig Inge Oy - real name Maciej Miskiewicz - is a Dublin based musician of Polish origins, and although he presently composes music for movies, he started at a young age playing with local bands at his hometown. His live performances have something to do with three turntables plus prepared vinyl records and probably some bass playing to boot.

But the sound you will be listening to in 'She Was God Again' won't help at all making the connection to turntablism. It all sounds extremely organic and cohesive, full ambient-like pieces with beautifully played bass strings reminiscent of jazz combos. 'Island' is the perfect example of the amazing string arrangements Stig Inge Oy has to offer. But not everything is as linear as you'd expect after listening to the first piece: 'Atomised' starts with some gently chopped up samples and again, the heavy bass enters to embody the whole piece into round-shaped sweetness.

While on the ambient side, the pieces are unexpectedly short (but great), like good slices of pop music should be. As you go further into 'She Was God Again' you'll hear a full palette of strings (including pianos, but mainly cellos and violas), some well-placed keyboards and occasionally a gentle drone bursting in and out of the picture.
But the bass is always there, almost ominously over the rest. Make sure you have a good subwoofer to play this. Excellent work!»
- Pedro Leitão

'|
---
August 16, 2009
CRASH

• tube'|181 - Dan Schreck - The First Report of Injury


«Dan Schreck returns to test tube with another solo work, after releasing 'Lost Soundtracks from The Wizardof Oz' with a bunch of college friends.
'The First Report of Injury' reaffirms Schreck's keenness (amazing word) for experimental electronics, and I want to note that 'experimental' is perhaps an understatement here. Schreck goes far while trying to preserve a palpable sharpness in every sound he produces. This is not electronic music for you to nod at, this is really harsh sound experimentation that could make you hate electronic music forever, or love it endlessly.

'The First Report of Injury' is an amazingly detailed work on XXI century electronic music that you cannot afford to pass by.»
- Pedro Leitão

P.S. - I would like to thank my friend Sebastian for yet another amazing artwork. SEB, You rock!

'|
---
August 12, 2009
THREE!
We have started the preparations for the third volume of the test tube saga. It will include all the releases from tube125 to tube179 (inclusive) and this time around the subject for the artwork will be the mighty insects of this world.
Above you can see a preview of the first available artwork: The Mighty Beetle!

We expect to have all the 10 different artwork pieces ready by the end of this summer/beginning of the next season, as well as the first batch of DVDs ready to ship.

See you then!

'|
---
August 08, 2009
SOME DIFFERENT APPROACH

• tube'|180 - Roman Slavka - Some Different Works


«Roman Slavka, from Ukraine, is best known for a couple of releases at Enough Records and one very special one at Nexsound (my personal favorite), among several collaborations and inclusions on compilations, lice Muscut. For some time, Slavka's trademark sound was something along the dark ambient genre.
More recently, his music began to lift up and gained a more dubby, frequently minimal techno-ish, electronic feel, all of this without losing the experimental ambient side we learned to love.

'Some Different Works' is a small EP worked around sound dualities. 'Air/Water', 'Balance/Structure' and 'Move/Nature' all have music elements struggling against each other, but at the same time fitting very well together. 'Door in Dolphinarium' can also be included - although not being titled a duality like the other tracks - as it incorporates cityscape, enviroment and urban-like sounds, stitched together with dolphin's talking. A curious but effective approach.» - Pedro Leitão

'|
---
July 31, 2009
AUDIO GENOME PROJECT

• tube'|179 - room101 - Longevity Acid Gene 1


«Another great album from Adam Balušík a.k.a. room101. Unlike his last release for test tube (tube148), this one marks a depart from otherwise typical loose drone experimentation into more surgically synth splintering - which sometimes still cross drone boundaries anyway. But it's not a defect, it's... just the way it is. A drone simply urges, begs to be used in a specific moment in the space-time continuum, or whatever. Adam knows how to use them, and the results are absolutely brilliant.

'Longevity Acid Gene 1' suggests something of clinical/scientific origin, so we went for some matching artwork that resembled the feeling of lab work experimentation. I think it fits real nice with the music, but you have to listen to the whole album to evaluate that. There are truly remarkable tracks here, and pretty much all of them are based on granular synthesis or something of similar origin. My favorites have to be 'LAG-1.4' and 'LAG-1.5.3' (awesome drone on this one), and the whole album is very cohesive without repeating ideas.
Adam really nailed it this time.» - Pedro Leitão

'|
---
July 24, 2009
TEST TUBE'S SPINOFF


YEAH!

Two members of the test tube family have been planning this for some time now and it's almost coming true: Impulsive Habitat is coming!
David Vélez and Juan José Calarco are the curators (besides being excellent musicians on their own) and will be selecting the new catalogue and the best music under the Field Recording/Electroacoustic specifications. Just for you.

But does this mean that test tube will not be releasing more of that kind of sounds? Not really, no. But we were expecting to take some burden off our shoulders and dedicate more time to real, unclassifiable music experiences. That's the main reason behind test tube existance.

Impulsive Habitat is not fully online yet, but will be. Keep your eyes peeled.


'|
---
July 19, 2009
THE CAKE IS A LIE.

• tube'|178 - Spheruleus - Tales From the Labyrinth


«'A Labyrinth, unlike a Maze, has one clear/unambiguous/obvious route to the centre. Whereas a Maze has many complex and difficult to negotiate pathways.' - H. Towell

Although there's certainly wisdom in Towell's words, the choice of following (or not) the clear path of the labyrinth is always on the table when we initiate the journey; And here is no different: 'Tales From the Labyrinth' - the new work from Harry Towell's brainchild project Spheruleus - lays a clear path for the listener to follow, from beginning to end, but it also offers him other routes, some of which could be dead ends, making you go back to the start and re-initiate the journey. This is the perfect soundtrack translation into a music experience from what a Labyrinth is.

Towell is also right when he writes:

'The ancient ideas behind the Labyrinth were to create a spiralling pathway to the centre, where a holy shrine or statue would be. During the walk through the Labyrinth's spiralling pathway, the person making the journey would feel separated from the outside world and it would give time for reflection and to focus the mind.'

That said, the Maze's original purpose is to confuse the user into getting out of it, hiding the real way out in plain view, dissimulated. The only goal is to get out. There is nothing at the center.
The Labyrinth has clearly a goal at the centre. Close your eyes, play it loud, and use headphones to be guided all the way in.»
- Pedro Leitão

'|
---
WE NEED THE CMS DEVELOPER IN YOU! * UPDATE *
A month has passed since our call for help on June 19, and since then we got several e-mails from people with a genuine desire to help. Many suggestions were taken into account and I decided to comply with the offer from a test tube fan to fully develop a new website built on the Joomla programming language.

Gus - the name of the man - will have my undying gratitude, and I sincerely hope he will keep giving input to test tube long after the new website has been finished. I have always seen test tube as a ongoing community-driven project, and I have always welcome input from anyone who wish to give something to the netlabel. Unfortunately, this turned out to be a one-man journey most of the time, but If you have any cool ideas about where test tube should go from here, now is the time to share them.

Expect some real changes in the near future.

Also, expect a new newsletter in two or three weeks time...

Peace,

'|
---
July 14, 2009
WITHOUT SCAFFOLDING

• tube'|177 - 2methylBulbe1ol - Quelques Siècles d'Insomnie


«2methylBulbe1ol is the chemical alias of french producer Nicolas Druoton, based out of Dijon, northeastern France which is the historical capital of Burgundy. Nicolas produces some very nice IDM of the Industrial type, very melodic, solid beats and rough and dirty edges. 'Quelques Siècles d'Insomnie' is therefore a short but juicy EP and will appeal to all IDM fans out there.

The artwork is also amazing and you can confirm everything when you purchase the limited Vinyl edition of this EP. Nicolas has some copies for the hardcore fans. Check out his website's shop page.» - Pedro Leitão

'|
---
July 05, 2009
ALICE IN DRONELAND

• tube'|176 - LSWZ - Lost Soundtracks from The Wizard of Oz


«test tube veterans Gordon Tebo and Dan Schreck teamed up with another four musicians and friends - Mark Beasley, Alex Inglizian, Chris Powers and Daniel Stine - and decided to make 'the most expensive recording ever produced by man' (their own words). Did they made it? Well, LSWZ is here, and it's one hell of an album.

'Lost soundtracks from The Wizard of Oz', despite being funny titled, is serious business. You get experimental country-electronica, with plenty of guitars abound, you get drones, foul language, broken records, looped voices. You also get rattlesnakes running around, field recordings taken somewhere far away, lazy drum machines, schizophrenic computer programs, etc. You also get lots of improvisation jams everywhere. And in the end, it still sounds almost like music!
'Lost soundtracks...' is a magnificent discovery journey into the minds of six talented artists who have decided to make something together. It crosses genre and style boundaries and ends up being something entirely new!» - Pedro Leitão


'|
---
June 29, 2009
FUZZY FUZZY FUZZY

• tube'|175 - Hollydrift - Peachfuzz EP


«Hailing from Wisconsin, USA, comes Mathyas Anderson aka Hollydrift, with an extremely interesting work called 'Peachfuzz EP'.
Anderson concocts heavy drone populated synth lines, deliberately fuzzy and vintage sounding. This could be a nineties-parallel-universe post-rock, if it ever went the cheap synth and shoegaze way instead of the clean electronica-like one.

Or whatever. 'Peachfuzz EP' is full of hypnotic and slighly danceable tunes, like a mantra made of old broken keybaords that no one uses anymore. Nostalgic yet extremely straightforward stuff. Anderson hits the right spot between vintage electronica and future-proof keyboard rock of the 00's.
'Abygayle Surrey' and 'Grounded' are my favorites. The first one because of its subtle oriental tempo and background drones, and the second one because of the BoC-like children voices and cavernous drones that abound. 'Peachfuzz' is almost pure eighties shoegaze... told you so. This shit is dope.» - Pedro Leitão

'|
---
June 22, 2009
GUITAR LAKE

• tube'|174 - Mannequin Blood - Concussion Dreamer


«Mannequin Blood is a one-person music project from Chicago, Illinois and bases his work on experimental guitar ambient.
Taking influences that range from doom metal to pop, from shoegaze to krautrock, Mannequin Blood experiments with his guitar to create short narratives rich in analogue density and warmth. Previous works and more on the artist can be found here.

'Concussion Dreamer' is his new work and comes perfectly into view after Out Level's latest release here on test tube. In a way, both releases kind of complement each other even if the musicians don't know about each other's work. Enjoy!» - Pedro Leitão

'|
---
June 19, 2009
WE NEED THE CMS DEVELOPER IN YOU!
That's right folks. This stone-age HTML-only website is giving me more work than it should. I need to create a new page for every release, and if I happen
to need to change something sitewide for all release pages, I need to change every one of them, one at a time!!! I can't afford to let this grow into a monster that I can not tame. I also have to upload all the pages again and again, you know, like old-time site uploads. That's pretty much the limitations I have on this subject.

Also, I really think this website needs more functionalities, like a search box so anyone can find an artist, a release or anything related to them. This is one the most important things a Netlabel should have, especially when it has released in excess of 170 releases!

So, here's the idea: I don't have the time or the money to make a nice CMS system for test tube, so I'm asking for volunteer(s) who are willing to make one for test tube, pro-bono. I cannot pay because I don't make money with this, but I will offer my undying and eternal gratitude plus free publicity for the chosen developer/designer + a lifetime supply of test tube physical releases (DVDs and future releases we may do) + a pack of the old label CDs I still have in stock + some freebies. I know it's not much, but it's all I can spare.
Guys, test tube really needs this to pickup speed again.

Any ideas/suggestions will be much appreciated too.

Whoever's interested in this can contact me using the usual contacts found here in this website, or you can add me to your IM client (messenger only) using this e-mail: aeriolabehaviour AT msn DOT com.

Thanks in advance!


'|
---
June 12, 2009
GUITAR LAB

• tube'|173 - Out Level - sx guitar EP


«Out Level (aka Luís Antero) is a portuguese artist best known for his Field Recordings works, which he has released on a couple of Netlabels around the world. This time, Luís approached me with a different kind of material: a collection of improv. tracks all made with just his SX prepared guitar.

This short EP spans over 11 tracks of landscape-style guitar solos, presented sometimes in loops, sometimes in short dialogues to one another. At times, it seems that you're hearing something else than a guitar.
Introspective, melodic and experimental, the 'sx guitar EP' experience will surely appeal to both the rocker and the ambient freak inside you.
Highly recommended.» - Pedro Leitão

'|
---
June 06, 2009
CERVICAL DRONES

• tube'|172 - mon0 - Multifidus


«Nearly six months after 'Beyond', mon0 comes forward with this behemoth of an album, called 'Multifidus'. Once more, the formula repeats itself: layers and layers of drones and heavy atmospherics together with occasional bells and whistles.
For this album, mon0 did a special bonus mix track, which contains all the 5 original tracks mixed seamlessly together, which is in fact, the best way to experience 'Multifidus'.

Taking each track separately or going for the mix, It's your choice. Either way, you are in for a great experience in ambient music.»
- Pedro Leitão


'|
---
May 31, 2009
ODE TO THE WHITE CONTINENT

• tube'|171 - Surtsey - Symphony No. 1 For Strings: Antarctica


«Surtsey is a volcanic island located southwest of the coast of Iceland which didn't exist until November 14 1963, when an undersea eruption began rising until reaching sea level. This eruption lasted until June 5th 1967. It stopped and Surtsey reached its final size of 2.7 Km2. Since then, the erosion caused by the sea and wind have been diminishing the Surtsey's size. As of 2002, its size was just short of 1.4 Km2. (source: Wikipedia)

Maybe Dave Court sought inspiration on that 'human lifespan' unique island, maybe not, but still, Surtsey's music is an ode to the elements.
'Symphony No.1 For Strings: Antarctica' is also, according Dave's friend:

"(...) a 30 minute ambient work incorporating elements of drone, ambient and contemporary classical music. Krzysztof Penderecki is stated as a direct influence, though the work itself shows few similarities bar the use of dissonance and tone clusters."

This short album, if anything else, is proof that even a self-taught musician - Dave teached himself violin, piano and several other instruments - can carry talent, imagination and the will to put something like this to life.» - Pedro Leitão

'|
---
May 27, 2009
BEATS PLAY FREE AT CREW HASSAN


The netaudio activist group Beats Play Free (of which we're members) got a regular monthly gig at Lisbon's Crew Hassan, a famous bar-club in the downtown area.

The first of these regular shows - that will happen every last saturday of each month - is right next saturday, May 30th, and will feature a live set of improvised electronics by the hands of the Platform duo, and before and after there will be some deejaying offered by 'yours truly'. The menu will feature heavy doses of ambient, drones and some dubby beats to boot... probably.


Admission is very very cheap - 2 euro I think - , drinks are extremely cheap and the food there is great! organic dishes, soups and everything!
Now, come on!

'|
---
May 25, 2009
UNDERSEA DRONES

• tube'|170 - 900piesek - Dea Varanus


«Remember Matúš Mikula from tube126? He's back as 900piesek again, with another dreamy and sci-fi-esque soundtrack, entitled 'Dea Varanus'.
All four tracks emanate sound through a dense and foggy underwater-like world... as if we were in a different dimension. Audio data is served to you using computers and machines from another time. Referencially, this is ambient electronics circa 1970's, while some keyboards sound definitely like Vangelis, Blade Runner period, which is actually very appropriate.

Dear listener, we recommend the use of headphones throughout this journey, as the fine subtleties of the atmospheric and environmental audio pieces you're hearing will surely gain much detail simply because of their use.
This is a 'vintage modern classic', with drones. Enjoy.» - Pedro Leitão

'|
---
May 20, 2009
THE HUMAN INVASION

• tube'|169 - David Vélez - Impulsive Habitat


«A habitat (which is Latin for "it inhabits") is an ecological or environmental area that is inhabited by a particular animal or plant species. It is the natural environment in which an organism lives, or the physical environment that surrounds (influences and is utilized by) a species population.

Impulsivity (or impulsiveness) is a type of human behavior characterized by the inclination of an individual to act on impulse rather than thought.

I have always been interested on the faculty of sound to suggest spaces and places and for this piece in particular I wanted to use primarily field recordings as the main source to give to this work a more environmental character.

Impulsive habitat was recorded, performed and composed between October of 2008 and March of 2009 in Astoria and Brooklyn, NY.

Special thanks to: Pedro Leitão, Richard Garet, Juan José Calarco, James McDougall, Manrico Montero, Christopher McFall, Darren McClure and Gabriel Hernandez.» - David Vélez

ALTERNATE COVER Model: Arlen Vásquez

'|
---
May 12, 2009
iTUBE




The other day I had some free time for myself and decided to make a few iPhone wallpapers for test tube fans. Some are in native iPhone resolution (320X480) and some have twice those pixel size. iTunes will rescale the larger ones to fit your device automatically.

I've put them into a ZIP. get it here.

'|
---
May 11, 2009
PLANE OF DREAMING

• tube'|168 - H Stewart - A sky unforgiven of dreams


«H Stewart is this north-american woman with a sad but amazing personal history who somewhere along her life turned into writing poetry and singing. But not any regular kind of singing, no. H Stewart embraces the voice as if it is another instrument, a sound generator which she manipulates, distorts and skews to her liking.

'A sky unforgiven of dreams', like her previous works, builds on acapella sketches that H Stewart sings and then change into voice-drones that sound like eerie songs about lost loves, dreams, sadness and death. All about life, actually.
Recently, Free Albums Galore published a review of Stewart's four previous albums on Clinical Archives and it's pretty much right to the point.
This is an essential listen.» - Pedro Leitão

'|
---
May 05, 2009
CHILLED OUT AT THE TOP

• tube'|167 - Rico Püstel - Amatory


«If you write down and then spell 'Rico Puestel' (with 'ue' instead of the original germanic 'ü') you might think we're talking about a Miami-Cuban cocaine smuggler or something like that. But Rico Püstel is a real german, probably living close to some place like the one on the cover: plenty of snow and below zero temperatures in the winter, and very mild summers. All framed by tall mountains. Not even close to the almost tropical climate of Southern Florida or Cuba. But the music that Rico makes is hot enough to melt the Alps.

'Amatory' is a short EP that samples Rico's primary influences of 90's techno, a pinch of dub and funk and even some IDM thrown into the mix. This recipe results in extremely danceable and feel-good tunes without sounding brainless excercises. There's enough interesting stuff going on to keep you sufficiently interested. Three words: I want more!» - Pedro Leitão

'|
---
May 04, 2009
FIVE-HUNDRED-AND-TWENTY-SIX AND COUNTING!
We've passed the 500 subscriber mark for our newsletter! 526 to be precise. Maybe I oughta put out more regular newsletters... hmmm...
Well, at first 526 may not look like much of a fanbase, but we're talking netaudio here, we're undergorund of the underground, yeah? Well, kinda.

Anyway, this calls for a celebration and I'm going to drink something with some degree of alcohol really chilled for respect of you guys!
Thanks a lot for putting up with me and test tube!


'|
---
April 29, 2009
THE SENSORIAL FOREST

• tube'|166 - d'incise - Morsure Souffle


«Finally I had the honor of meeting Laurent Peter, the man behind the machines and objects that make up the name 'd'incise'. He came for the second time to Lisbon to play with Cyril Bondi (Diatribes) and some more local jazz musicians. They did a awesome show at Crew Hassan and, as I wrote above, I met Laurent in person, that same night.
We exchanged some audio gifts and among the ones I got, there was a handmade copy of 'Morsure Souffle', the latest d'incise album we are offering you now.

'Morsure Souffle' is an amazing and fresh-sounding album. It's an album that, while retaining the already well-known 'd'incise trademark sound', it's also somewhat of a departure from his previous work. d'incise sounds much more detached from synthesis based and computer generated sounds, and almost completely embraces field recordings and found sounds as 'prime matter' for this work. The pieces are so much more complex and unpredictable, that you never know what you'll be getting next, until it hits you.»
- Pedro Leitão

'|
---
April 28, 2009
VITAL RELEASE!
'Ontgalman' by Bas van Huizen just got reviewed by the infamous Frans de Ward, over at this week's Vital Weekly. Take a peek!

Thanks a bunch, Frans!


'|
---
April 21, 2009
THE NORTH POLE

• tube'|165 - Venus Vulture - Stick with me Giselle, things can only get better


«From the other side of the planet comes a New Zealander. His nom-de-guerre Venus Vulture aka Sean Monaghan, a plastic/visual artist turned musician. He has already two magnificent releases at one of my current favorite netlabel - Resting Bell - and now comes to test tube with a new work: 'Stick with me Giselle, things can only get better'.

Venus Vulture's music is perhaps very similar to his visual work: big, dramatic landscapes turned soundscapes of undoubtedly classical origin. It's ambient music at its most pure state; dense, enthereal, and eternal. 'Stick with me Giselle...' could be the story of a journey to the cold northern Europe (there's a track about Helsinki and another about Norway, at least...) by a group of people, we don't know how many. Well at least one can hint that from the track titles... and the visual artwork that accompanies points to that too: white snow, sprinkles of blue water and a hint of black rock, or black earth. It sounds as it feels and as it looks, and Venus Vulture managed to deliver a steady flow of narratively and deeply buried emotions of barren lands, lifeless and gelid landscapes, cold winters and bright sunny days near the north pole of our home planet. Just perfect.» - Pedro Leitão

'|
---
April 15, 2009
MANOLGANT

• tube'|164 - Bas van Huizen - Ontgalman


«Bas van Huizen comes from The Netherlands and brings us a richly detailed and overall awesome album built entirely on loops of reworked live samples of guitar, metal objects and singing bowl. And nothing more.
All the pieces are complex structures and are dramatically enhanced by the compositional talent of Bas van Huizen and of course, all the live recordings would have to be of great quality to make such an album.

'Ontgalman' titles are all made up words, but they also carry something in their names that reminds us of real and fictional things. Take my personal favorite 'Metaalmoed' for instance; it sounds like some kind of metallic ensemble is playing drums on water pipes and pots and pans and then it builds up into a wall of noise full of really dense and special sound details.
'Ontgalman' is an amazing album waiting to be discovered.» - Pedro Leitão

'|
---
April 15, 2009
UPLOADS GALORE!
Yeah! Problem solved. It seems my modem was dying a slow and painful death. New one installed and we're up to speed again.

I apologize to all the artists that were on schedule for this month. Now I need to speed things up a little to maintain our programmed schedule.

'Ontgalman' by Bas van Huizen will be released later tonight.

Thanks for keeping up.


'|
---
April 14, 2009
MORE EASTER EGGS BUT SOME GOOD NEWS TOO (AND SOME SAD ONES)
The connection problems still persist: Random network drops, no FTP uploads (the protocol I need the most to get the label running) and overall slowness.

The good news is that some tech guys from the provider are coming here tomorrow afternoon to sort this out. I run ADSL here, with a modem + wireless router setup. The router is new (~ 1 month) and is well configured, so the problem must be with either the modem which is kinda old (4 years) or the phone cable itself. Either case, not my fault or responsability and I hope they put this thing up to speed again, or else I'm definitely switching to cable.

On another subject, the sad news: My friend Tiago Sousa, musician and curator of Merzbau Netlabel, is putting the nail in the coffin - so to speak. Unfortunately, Merzbau is a goner from this day forward. It seems that Tiago's career as a musician is no longer compatible with the curatorship of the label, which takes a lot of time and effort (and I know this from my own personal experience).
It's a loss for the Netaudio scene, but we all gained much from Merzbau's existence, and that legacy is here with us forever.
I wish Tiago a fruitful and happy career, and may all his dreams come true.

Thanks Tiago!
- Pedro Leitão

'|
---
April 05, 2009
EASTER EGGS
A new release was supposed to come out this weekend, but I've been having problems with the internet connection - slow/stalled FTP speeds of big files - and since it's the protocol used to upload the releases, I cannot make available the next release at the moment.
I'm going up north to spend the easter week with relatives, and hopefully by the time I return - one week from now - the problem will be taken care of.
There's been something very wrong with my current ISP regarding downstream/upstream speeds and dropouts and I'm thinking seriously of ditching them and switch to cable or whatever... something different at least.

I'm starting to be very pissed with all this. It's getting on my nerves and making me postpone and re-schedule releases against my own test tube planning and organization schedules. I really need to sort this out.

Happy Easter to everyone. - Pedro Leitão

'|
---
March 31, 2009
MINUS ZERO DEGREES


Our friend NNY (real name Jerome, Madeira Islands resident) has an amazing new album called '-0º', which can be purchased and downloaded here at bandcamp. You can also preview it before deciding to buy. Now, go!

'|
---
March 27, 2009
NIGHT SPIRITS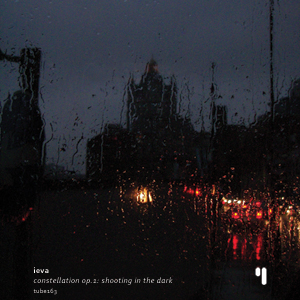 • tube'|163 - ieva - Constellation Op.1: Shooting in the dark


«ieva is Samuel André from France and he brings us a solid work on manipulated field recordings and ambient drones, wrote in a narrative way. 'Shooting in the dark' is all about the flow of the city at night, as if you were a ghost travelling between crowds of people, buildings and streets. Great stuff.

'Constellation Op.1: Shooting in the dark' was almost missing in action since last summer, as one our hard drives went bust and I couldn't find the piece anywhere. Luckily, I didn't loose Ieva's contact and asked him for the track again. After more than six months, here it is, in all it's glory. I hope you like 'Shooting in the dark' as much as I do. - Pedro Leitão

'|
---
March 20, 2009
TRAVELLING WITHOUT MOVING

• tube'|162 - Ad.R - Select (Parts 1 + 2)


«Polish musician Adrian Kowalczewski returns a short while after his previous EP with a solid short album called 'Select (Parts 1 + 2)'. The title reveals a bit of what's going on here: Adrian selected several kind of tracks, according to different moods, and the two parts the album title mentions were originally meant to be released as two different releases. Part 1 is the ambient side, referred to as the 'static' side: dub-inspired idm, solid and spatial d 'n' b beats ('c'), ambient pads and drones, and even some winks at dubstep ('Select c'). In Part 2 we have the 'groovy side', which includes an outtake from the previous release ('Short Guitar Song Part 2') along with two new tracks, including one attempt at an 8bit IDM style classic ('a').

If not actually full-blown consistent - or coherent - as a conceptual release should be, 'Select' works nicely because it is a great example of Ad.R's genuine talent at creating different moods extremely successfully. Here we have a bunch of really great tracks to enjoy, to dance or just to contemplate, that go very well together.» - Pedro Leitão

'|
---
March 15, 2009
THOSE SWISS GUYS!


Yes! The Diatribes combo is coming to the peninsula for a handful of shows, and if you're around you can't miss this! This is perhaps europe's best free/improv jazz really underground combo you'll be able to put your ears on for a long time.

Come and get it!

'|
---
March 12, 2009
INSIDE THE ENGINE

• tube'|161 - Blind Umizato - As the evening descends; Two rivers


«Montgomery (Alabama) based Blind Umizato created a hefty release for test tube: This 80+ minutes adventure comes in four different flavours, four tracks that explore the limits of field recordings and experimental electro-acoustics.

Title track 'As the evening descends; Two rivers' is a machine-operated vehicle of some sort, undoubtedly mechanical; 'GTR1' is a long piece immersed in reverb and dense electro-magnetic flow; 'Follow the one armed pendulum' sounds like a mechanical arm coming and going while sometimes touching a trigger that eventually repeats or cuts samples; finally 'New noise massacre', the longest of the four pieces, despite its title is pretty easy on the ears until almost halfway, because from then on it fires a cacophony of glitch and distorted samples of something I am not able to describe. There is a lot to be discovered here.» - Pedro Leitão

'|
---
March 07, 2009
UNKNOWN SOLITUDE

• tube'|160 - Lieberhonig - Unknown People


«This time around, Bittor Ruiz de Azúa brings us a small electro-folk gem called 'Unknown People' built over the same foundations of Bacanal Intruder and Aitänna77's subtle delicacies. They're all spanish musicians, by the way, so there must be something about Spain when it comes to melancholic folk, acoustic guitar fingering and toy electronic's soft melodies.

'Unkown People's best moments have to be 'The saddest of the three' with its lazy organ and electronic piano setting the tone; 'And then...' which actually is the happiest song in the release with its upbeat rhythm and glockenspiel phrasing and finally 'Down', summing up perfectly Lieberhonig's unique talent of composing melanchonic set pieces which come out so greatly done.» - Pedro Leitão

'|
---
March 02, 2009
SYNTHSCAPING INTO THE LAST CENTURY

• tube'|159 - Moscow Youth Cult - Colours Seep Out


«Warm, woozy childhood memories, and crisp blue winter skies… friends, beaches, summer… the creative joys of making otherworldly sounds on battered old synths and a Casio keyboard stuck through cheap guitar pedals… a hefty dose of unadulterated, euphoric pop melody….

Colours Seep Out is the first full mini-opus from Nottingham's Moscow Youth Cult, an electro-ambient-pop sidearm of UK underground indie noisemakers, Love Ends Disaster! (currently in hiding, putting together their next album). Part a recollection of the fuzzy and optimistic late 1990's electronica of Boards of Canada, Aphex Twin, Susumu Yokota and DJ Shadow, part the urgent electro-pop of Beck, Ladytron and Fourtet, the 9 tracks here twist and melt from evocative synthscapes (Antenna I, Sandpits) to concise spurts of noise pop (Philosophique, Sakura Sakura)… and back again, without pausing for breath. What becomes clear is Jon Dix (Guitar, Synths, Vocals, Programming & Production), Robert Sadler (Keyboards, Programming) and Leah Donovan's (Vocals) clear enjoyment of the sensibilities of pop music, topped with a healthy does of unabashed, exciting experimentalism.» - Jon Dix

'|
---
March 01, 2009
ENTIA NON REVIEWED

Found another review for 'Lilt' in the spanish blog Engrudo Cerebral.
Nice one.

'|
---
February 24, 2009
DAILY DOSAGE

• tube'|158 - Siegmar Fricke - Autolysis


«Come and get another dose of 'pharmakustik'. 'Autolysis' is yet another sonic adventure from aural waves investigator Siegmar Fricke. Fricke is a veteran experimentalist and has managed to come up with a truly unique m.o. in music composition and arrangement. His works are an intricate web of sounds woven from scientific formulae and experiments translated from theory into practice. Siegmar calls this technique 'Pharmakustik', perhaps as a hint to the medical qualities of his creations. All os his releases follow a methodology and are the result of that same methodology.

About 'Autolysis' he writes: "Decomposition of necrotic rhythm-cells within organic ambiences by the action of phaser-modules. The aural operator recycles the postmortal sequences from acoustic death by the process of bit-reduced autolysis." This is the experience you'll be listening to.
Enjoy your treatment.» - Pedro Leitão

'|
---
February 20, 2009
DOPO REVIEWS

Added a couple of new reviews for the opus 'Blue Lands'. One from Eduardo Chagas 'Jazz e Arredores' and another from our friend Braindance. Both in portuguese. Check them out if you're able to decrypt our language.

'|
---
February 16, 2009
THE 'DOPE' COLLECTIVE

• tube'|157 - DOPO - Blue Lands


«Bittersweetness. Perhaps the word that best defines the nature and behaviour of humans. We are capable of the best and the worst, capable of love and hate, of happiness and sadness, luck and misfortune, we are both bitter and sweet at all times. Bittersweetness is also one of the best qualities that the music of the DOPO collective has to offer. You can find it in all of their songs, and that's what makes their sound so human, so unique. The power to make us happy and sad at the same time. And we wonder: 'how could we not love this? how could this not be part of our lives?'. And it couldn't, because DOPO's music translates into sounds the feelings we have while living our everyday lives. This is our sound.

'Blue Lands' is to be - unfortunately or not - DOPO's demise. After this, DOPO will end but their legacy is here for everyone to discover, and in a way, will live on in our memories. 'Blue Lands' is also the opening track of this release and probably the best song they've done, ever. But this album has some really beautiful gems inside, like 'The Long Red Fires of the Dying Day', the most Animal Collective-y of all tracks, minus the usual freakish beat. In this album we can also find the most loose DOPO ever, as they used a generous amount of field recordings in the compositions, of which 'Sea-lion of the Sea' is a great example of, and also one of my favorite 'under two minutes' tracks of all time.
You will find as well the usual hypnotic guitar strings all over the album, plus some special moments, like this one in 'A Delicate Turn and Twist' which has a delicious distortion guitar which reminded me immediately of some of Sonic Youth's best musical moments. There's well placed drones in 'A Long Wave of Yellow Light', more 'around the bonfire' oddities in 'The Crowd of Little Men' and... I'm not telling you more. Just download this amazing album and find out for yourself.» - Pedro Leitão

'|
---
February 09, 2009
TIDY KID REVIEWED

Netaudio fan Benoît Richard from Netlabels Revue did a nice review this weekend for 'One Week With My Casio', a digital and limited edition K7 release by Australian musician Tiky Kid. Thanks Benoît!

'|
---
February 07, 2009
NUMBNESS

• tube'|156 - project_unknown - Inner Suicide


«'Inner Suicide' is a dark journey into the realms of dronesy industrial and minimal techno (really really minimal, not the mainstream shit they serve at nightclubs), glitch and clicks & cuts (more cuts than clicks, actually). What remains is a dense and unconfortable feeling of displacement, a bit like when you have a very subtle head numbness that doesn't go away but doesn't really bother you anyway.

project_unknown is this twenty year old polish guy who also makes music under the aliases h_brida, kris_kelvin, nasty_squirell and synthetic_samba. With project_unknown he has done a release for Ninjah, a local polish netlabel. Pretty good stuff.» - Pedro Leitão

'|
---
February 04, 2009
ELDINO DIXIT

Eldino (aka Rubèn) is big netaudio fan and Creative Commons activist from Italy, and he did in his famous blog a very nice review for last year's 'Shaman Tones', an album from polish based musician Artik. It is a complete review even with individual ratings for some of the tracks. The review is now at the release page.

Awesome work Eldino! Thanks for the support! :)

'|
---
January 31, 2009
DANCE MUSIC FOR THE FAINT-HEARTED

• tube'|155 - March Rosetta - In Randomness There Are Numbers


«March Rosetta is Tom Carter and comes from London, U.K. Under March Rosetta he has released a handful - or better yet, two handfuls - of releases for several netlabels around the web, apart from releasing some physical ones for his own home, Verlaine Records.
Tom has a genuine talent to create songs, and his musical background and influences take him to 80's pop territory, with a healthy dose of kitsch keyboard sounds thrown in sometimes, but still... great songs which he can be proud of because he also has a very sweet voice (reminds me of David Byrne sometimes) and his singing is just superb. You should get his latest release for Clinical Archives, 'Late in Time' (.ZIP) which is a great example of his singing and creative talent.

For 'In Randomness There Are Numbers' Tom puts his singing talent aside and concentrates in oldschool electronica disco dance tracks or whatever they should be called. These are five unbelievable sweet tunes for taking on the dancefloor of just nodding your head around. Better yet, take them out for some jogging or cycling, they work amazingly well.
Tom spreads his wings in almost every direction here, from 8bit techno to classic IDM to 80's synth pop to cheesy house. That should be enough nostalgia to keep your heart warm throughout this cold and windy winter.» - Pedro Leitão

'|
---
January 26, 2009
SILENT MOVING PICTURES

• tube'|154 - Monopole - Silent movie surround sound


«Monopole is Richard Sudney from Detroit, USA, but don't expect techno sounds from 'Silent movie surround sound'. Instead, expect some glitch-esque IDM mixed up with ambient electronica for good measure. Audio sources range from typical field recordings gathered around abandoned factories and old vacuum tube analogue equipment installed at Richard's basement.

This small EP is apparently influenced by old theatre projections of silent movies from the 20's and 30's. The quirky programmings and out-of-line samples make up for a very curious and cinematographical, while interesting, release.» - Pedro Leitão

'|
---
January 19, 2009
FRAILTY AS THE SOURCE OF ALL

• tube'|153 - Ian D Hawgood - Her Name Was Frailty


«This is one of those releases that floods me with metaphorical insights.
In the beauty of breakage we find some of the answers for our deepest questions.
When something breaks, we are able to perceive it as what truly is, a collection of pieces of different shapes and sizes. Ian D Hawgood gives us four pieces of these ruined goods. Beginning with incessant timing of a vertical sound along a sea of soothing horizontality.

If frailty is the source of all things, then we ought to go back to it. All the abundant arrogance and destructive strength present in human beings has brought us to irreversible situation, into a mood that swings like the weather, each time faster and more bipolar. I believe "Her name was frailty" implies The Earth. Whenever we observe The Earth from a distance, in this case from an astronaut's point of view, we can understand how far from reality we have strayed. The construction and sounds of this album allows me to, not only returning to a point of frailness, but also to activate a particular type of mental stimulation that empowers my psyche conceding me thoughts about restoration. Now, restoration implies an active participation in bringing the past back to life, in this case from broken to whole. This release definitely modifies my tiny rat heart.

Thanks Ian... or should I say 'Ion', an atom that has acquired a net electric charge by gaining or losing one or more electrons.»
- Sebastian Alvarez

'|
---
January 12, 2009
EASTERN BLUES

• tube'|152 - Mel - So


«After releasing several gorgeous and very intense guitar based drones as AO and later as on_14, Aogu Yoshida returns with a new moniker: Mel. 'So' is Mel's first effort and marks a shift in his aesthetic approach. Out with the drones, in with the lush pads and synth lines. Mel is all IDM, all intimacy, all luxury sounds.

Muffled beats and reverb keyboards go side to side with breaking waves and other field recordings, along with some trademark Aogu Yoshida soft drones. 'Autumn' is the best example of what Mel is and what Aogu has accomplished. 'Swee' is currently my favorite track. Highly recommended!» - Pedro Leitão

'|
---
January 06, 2009
WELCOME TO 2009; THE LOST 4XT'S; AND MORE

Yeah, welcome to the new year. test tube will complete 5 years next July and I'm still a bit overwhelmed when I look at the proportions that this little hobby has grown into. It has changed from an exciting adventure into a big responsability. In any case, I'm very happy that we're still alive and kicking.

While browsing the 2008 news I realised that I never posted the test tube top ten's (4XT) from second half. I'm really sorry for that, so... before anything else, let's review the most downloaded releases of the last six months:

JULY 4XT

#01 - tube078 - Quest.Room.Project - Fiducial Banality [1161 downloads]

#02 - tube129 - Artik - Shaman Tones [919 downloads]
#03 - tube123 - d'incise - Les Restes du Festin [497 downloads]
#04 - tube118 - Platform - Templates [475 downloads]
#05 - tube130 - Ad.R - Short Dance Songs EP [291 downloads]
#06 - tubemm001 - David Vélez - 20:51 [286 downloads]
#07 - tube131 - Edoardo Romani Capello - Chrysopraze Spheres [184 downloads]
#08 - tube070 - Jan von Grafenstein - 13 [177 downloads]
#09 - tube120 - Gordon Tebo - Patina Turner [128 downloads]
#10 - tube132 - Morgan Jenks - Sound to Activate Space EP [114 downloads]


AUGUST 4XT

#01 - tube135 - Ilia Belorukov + Philip Croaton - Un[view]... [3031 downloads]

#02 - tube123 - d'incise - Les Restes du Festin [931 downloads]
#03 - tube136 - .at/on - fon ~ scape [918 downloads]
#04 - tube133 - Neubau - Definitions of Nowhere [444 downloads]
#05 - tube131 - Edoardo Romani Capello - Chrysopraze Spheres [432 downloads]
#06 - tubemm001 - David Vélez - 20:51 [413 downloads]
#07 - tube132 - Morgan Jenks - Sound to Activate Space EP [304 downloads]
#08 - tube134 - Tüsüri - Aizeola [231 downloads]
#09 - tube130 - Ad.R - Short Dance Songs EP [211 downloads]
#10 - tube113 - TrianguliZona - Flossy [199 downloads]


SEPTEMBER 4XT

#01 - tube138 - Mons Jacet - Songs of Night and Longing [1141 downloads]

#02 - tube137 - Lezrod - Fear and loathing in Rio-Tokyo [1022 downloads]
#03 - tube135 - Ilia Belorukov + Philip Croaton - Un[view]... [728 downloads]
#04 - tube139 - Project 5AM - Quixotes of Moons... [600 downloads]
#05 - tube119 - Spirit Elevating Brains - Pulsos Temporales... [463 downloads]
#06 - tube136 - .at/on - fon ~ scape [363 downloads]
#07 - tube100 - Pitch Boys - Son of a Pitch [292 downloads]
#08 - tube103 - Motown Junkie - Plagiarism Perversions [185 downloads]
#09 - tube123 - d'incise - Les Restes du Festin [179 downloads]
#10 - tube140 - Nicholas Szczepanik - Sundries [145 downloads]


OCTOBER 4XT

#01 - tube142 - Umbrellas in the Rain - Wieder Daheim [1205 downloads]

#02 - tube141 - Long Desert Cowboy - Finareia [936 downloads]
#03 - tube137 - Lezrod - Fear and loathing in Rio-Tokyo [767 downloads]
#04 - tube123 - d'incise - Les Restes du Festin [655 downloads]
#05 - tube143 - Craque - Gamma [244 downloads]
#06 - tube140 - Nicholas Szczepanik - Sundries [240 downloads]
#07 - tube135 - Ilia Belorukov + Philip Croaton - Un[view]... [217 downloads]
#08 - tube139 - Project 5AM - Quixotes of Moons... [184 downloads]
#09 - tube138 - Mons Jacet - Songs of Night and Longing [128 downloads]
#10 - tube061 - Project Swirl - Alpha Centauri EP [125 downloads]


NOVEMBER 4XT

#01 - tube129 - Artik - Shaman Tones [5715 downloads]

#02 - tube131 - Edoardo Romani Capello - Chrysopraze... [4000 downloads]
#03 - tube016 - Gamma Ray Blast - 5 Dimensões EP [1519 downloads]
#04 - tube015 - Bacanal Intruder - Herramientas Para... [1422 downloads]
#05 - tube113 - TrianguliZona - Flossy [906 downloads]
#06 - tube142 - Umbrellas in the Rain - Wieder Daheim [641 downloads]
#07 - tube141 - Long Desert Cowboy - Finareia [399 downloads]
#08 - tube123 - d'incise - Les Restes du Festin [384 downloads]
#09 - tube144 - The Sales Department - [Sub]ways [369 downloads]
#10 - tube137 - Lezrod - Fear and loathing in Rio-Tokyo [332 downloads]


DECEMBER 4XT

#01 - tube113 - TrianguliZona - Flossy [475 downloads]

#02 - tube148 - room101 - Subconscious [370 downloads]
#03 - tube147 - Philip Croaton + Ilia Belorukov - Still Fire [346 downloads]
#04 - tube149 - Tidy Kid - One Week With My Casio [343 downloads]
#05 - tube072 - Michael Trommer - Sleeping Satellites [259 downloads]
#06 - tube146 - Speed Chess - Speed Chess [235 downloads]
#07 - tube140 - Nicholas Szczepanik - Sundries [184 downloads]
#08 - tube150 - Naoto Taguchi - Untitled 9 Fragments... [161 downloads]
#09 - tube071 - Penca Catalogue - This is Hair Care [156 downloads]
#10 - tube145 - David Fungi - aal_sentieri [151 downloads]

Ok, by looking at the charts we can see that here and there we had some surprises (some of them big), like two-year-old and even four-year-old releases are still present occasionally. I can't explain why they are there, but the other ones seem pretty obvious because they were released by the time the month ended and server statistics were compiled. We also see some releases appear repeatedly in the top downloads, like the excellent 'Les Restes du Festin' by d'incise (probably the most downloaded release of the whole year) which is totally deserved. d'incise's album was present in a lot of netaudio fans' lists almost everywhere. Lezrod's 'Fear and Loathing in Rio/Tokyo' appears a couple of times also along with David Vélez mixed media experience '20:51'.

The name test tube also appeared in some of the 2008 lists and blogs that we respect, like Marc's always exciting Disquiet; The community moguls at Phlow Magazine; Matchdose's very complete information center and Benoit's little corner called Netlabels Revue. There may be others (of course there are), but I couldn't find more at the time this post was being written. If you have found some more, we would appreciate the sharing of that information. Thanks :)

All in all it was a great year for test tube. We were able to maintain a steady release schedule while keeping our standards high as usual. We hope that 2009 doesn't disapoint here as well.
Our big thanks go to everyone that keeps coming to check out our releases and ultimately enjoys the eclectic choice we strive to provide.
We'll get together again in a year. Happy listening!

Peace,

'|
---
top